4 Comfy Grosvenor Beds You Need In Your Life
It's important to make sure to upgrade your bed and mattress, as they can affect your entire life! Choosing a bad bed and mattress set and contribute towards bad backs, muscle stiffness, bad sleeping patterns and even depression. Luckily, we provide some of the UK's comfiest beds. Here are 4 Comfy Grosvenor Beds You Need In Your Life!
Double Mahogany Sleigh Bed
Starting with something classic, the double mahogany sleigh bed is the epitome of antique meets contemporary. The low foot board adds a minimalist touch, whereas the ornate mahogany carvings on the double scrolled arms contribute a vintage feeling to your home. We'd recommend this bed for anyone looking for a striking centrepiece for their bedroom.

High Gloss Double Bed in White
Inspired by effortlessly cool Scandinavian design, the entire High Gloss furniture collection is a must-have for those of you who love the fresh, clean-cut look for your home. This double bed in particular is one of our favourites because it manages to be both practical and gorgeous. The solid outer frame encompasses the entire bed and is finished in a lacquered coating, making it one of the most easy to maintain beds out there – particularly if you have a family with young children.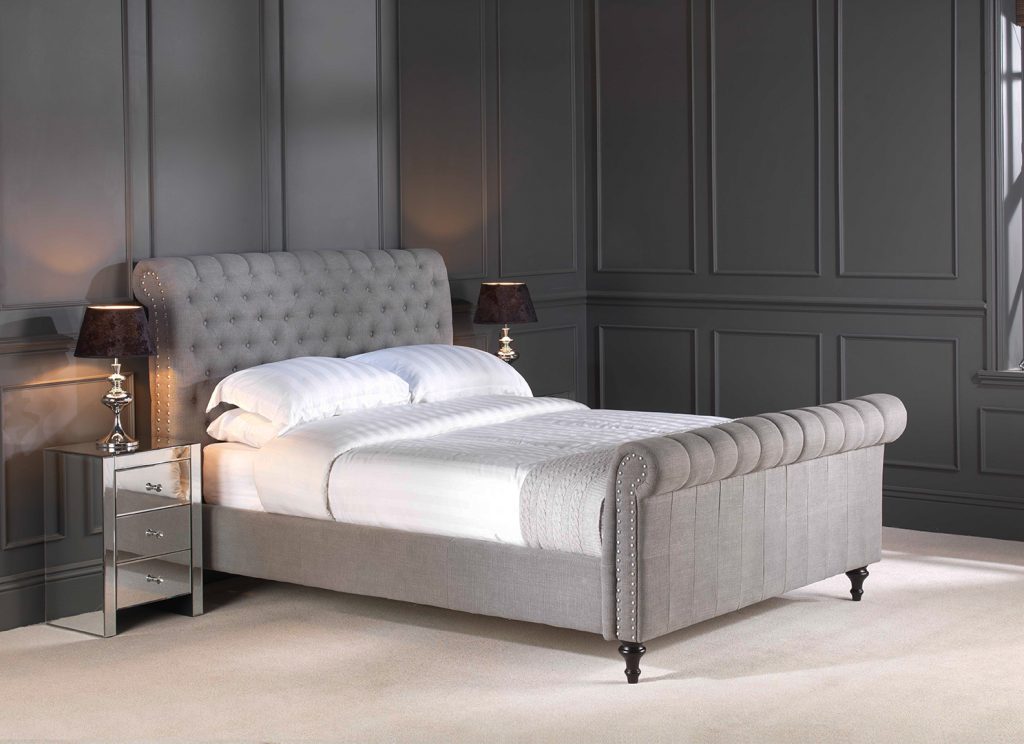 Premium Linen Upholstered Chesterfield Bed
Smart in a grey linen covering, this bed is the ultimate choice for interior design enthusiasts. Handcrafted from kiln-dried solid hardwood and covered in hand-hammered artisan upholstery, the bed will stand the test of time. In fact, some might say you can keep it as a family heirloom to pass down to your children! The sprung-support Beech slats system are designed to maintain good posture and ensure you have a great night's sleep every night. If grey isn't your colour, this bed is available in various shades of crushed velvet, linen and velour.
Hampshire Oak Double Bed
As part of our Hampshire Oak range, the Hampshire Double Oak Bed is crafted from North American solid oak and oak veneers for optimum strength. The honey-coloured oak casts a warm glow over your bedroom – a welcoming touch to any home! Although designed as a contemporary piece, the bed has been constructed from reliable and traditional methods such as dovetail joints and pine linings. Matching furniture is available including coffee tables, chest of drawers, TV units, bookcases, desks, wardrobes and much more.
Ready to refresh your home with our beautiful furniture ranges? Visit our homepage today or call us to pre-book a viewing.
Here at Grosvenor Furniture, our team strive to provide our customers with quality inspiration across all our latest furniture, news and services.
If you enjoyed this article, why not head over to Grosvenor Furnitures collection of furniture industry articles and exclusive insights now!